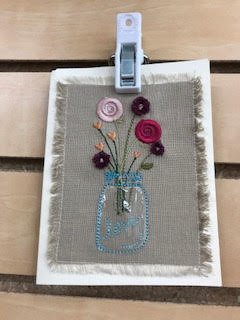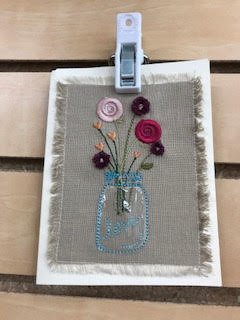 ITH (In The Hoop Club): Fun with Fringe: Jars of Seasonal Flowers

Make a greeting card using 4 x 4 (small) embroidery design in a 120 x 120 hoop. You will learn how to make fringed flowers and vinyl Mason jar applique. Embroidery files available with medium and large designs for making a canvas tote and tea towel.


You must be part of the ITH club to take this class. See club requirements below.
CLUB REQUIREMENTS:
This club activity is part of our ITH Club FALL series
Each attendee will be required to sign up for 1 of each of the following club projects:
o 1 Sweet Pea Project
o 1 Kimberbell Project
o 1 Pickle Pie Project


By signing up for ALL the ITH Projects (15) in the fall series, you will receive two things:
o 10% OFF all club project fees
o 20% OFF all club project supplies
o 1 FREE club project – TBD
CLUB signup is ONLY by phone or in person.
970-672-2147
Supply list:

Embroidery machine and embroidery unit in good working order (large enough hoop sizes for the projects)
Foot control, power cord & Embroidery feet
At least a 120 x 120 hoop
Variety of machine embroidery threads (at least 2 different greens for stems, yellow for flower centers, 3-4 flower colors)
Size 90 machine embroidery needle
Prewound bobbin thread
Applique trimming scissors
Seam ripper
Thread snips or scissors
Paper tape or masking tape
Tear away stabilizer to fit your hoop
Requirements:

Advanced Signup Required

Greeting card files & instructions will be provided at first class. Feel free to come in to the store early to get your embroidery files and handouts for class. Bring in a 1 or 2 GB USB and have staff provide you with your design and PDF Instructions. Make sure you can load the embroidery design onto your machine and have your 10 page PDF Instruction file for class printed.
A kit is included in the class fee that contains:
4.25" x 5.75" greeting card
9" x 10" piece of linen
2 – 1.5" x 1.5" fabrics for flower appliques that coordinate with your threads
2" x 3" clear 12 gauge vinyl
Sign up for 3 Club Projects and you will receive:
10% OFF ALL class supplies for these club projects with the minimum 3 club project signups.
Sign up for ALL 15 Club Projects and you will receive:

10% OFF all the ITH CLUB PROJECT FEES and 20% OFF the supplies and 1 FREE CLUB Project, when you sign up for ALL 15 projects.
| | |
| --- | --- |
| Skill Level: | All skill levels welcome |
| Materials Included: | Kit included in class feeEmbroidery designs & Instructions are included in this CLUB activity, other supplies will be needed - see supply list |
| Requirements: | ADVANCED SIGNUP REQUIRED |
| Instructor: | Michelle Weatherly |