Nutcracker Extraordinair

Exclusive deign by Carol Mancuso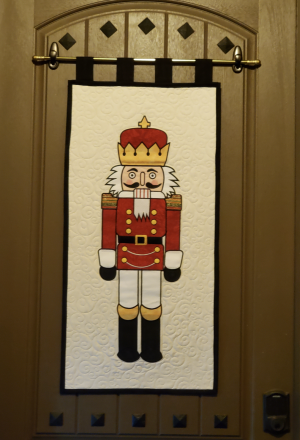 This machine embroidered applique project will challenge you to perfect your design positioning skills to create a larger than life Nutcracker for your holiday decorations. The nutcracker is created in 3 separate hoopings.
The finished size of the wall hanging is 36 x 18.
Supplies:
Embroidery machine capable of 360x260mm hoop, embroidery unit, power cord, foot control

Machine accessories

Scissors (hoop applique trimming and thread snips)

NEW Embroidery 90 needle

Hoop 360 x 260 mm

½ yard background fabric

1/3 yard for binding and hanging tabs

Backing fabric - 46x 28 minimum

Construction thread for assembly of wall hanging

Embroidery threads (polyester or rayon): Black, White, Pink, Gold, Silver

Bobbin fil - 60wt white (minimum 2 bobbins)

Assorted fabric scraps or fat quarters for: Jacket, Pants, Knees, Boots, Cuffs, Beard, Face, Hat, Crown. If you would prefer to have a laser-cut set of the fabric shown, kits will be available for $15 - you just need to let us know.

No-Show Mesh to fit the hoop (you will need multiple pieces as there are 3 hoopings)

Instructions and embroidery files will be provided at class. Be sure to bring a USB embroidery stick for your files.
If you want the fabric laser cut for you, please notify us at least 1 week in advance ($15)
This class is 2 sessions with some homework.