Skip Navigation
Website Accessibility

970-672-2147
info@the-sewingcircle.com

4112 S College Ave, Suite 112,
Fort Collins, CO 80525
Between Chili House & Hobby Lobby


HOURS:
Mon - Fri: 9am - 5pm
Sat: 9am - 3pm
Sun: Closed
See our CALENDAR
for other store closures
*** SEVERE Weather - call ahead to make sure we are open.
---
Basic Applique Techniques
This is a hands-on sample class. You will make a small sample of each method.
Learn the following methods in short simple samples:
Raw Edge with fusible web

Needle Turn by hand

Needle Turn by machine with interfacing

Reverse Applique by machine
Supplies student needs to bring:
Sewing machine in good working order, power cord & foot control.

Machine accessories that came with your machine

scissors

Thread: 50 weight cotton thread white

NEW 80 Universal Needle
Supplies that will be provided:
Fabric for each sample

stabilizer for each sample

Variety of decorative threads to use

iron & pressing mat

Patterns for each sample

Handout of technique instructions and where to get ideas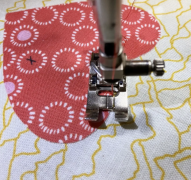 . Raw Edge with fusible web
. Needle turn by hand
. Raw edge with hand-stitching
.
. Raw edge with machine stitching
Skill Details:
Basic sewing on your machine
Materials Included:
See list of supplies provided in description
Requirements:
Advanced signup required
Basic Applique Techniques
Cost:
$ 30.00
includes supplies listed in description
Thu, Jan 18, 2024 at 1:00 pm to 3:00 pm
Thu, Jan 25, 2024 at 1:00 pm to 3:00 pm



Attendee Name: